Powerful and Elegant, for very large areas
The Ambrogio L400i is a robotic mower suitable for commercial use covered in a high strength carbon fiber shell. Its styling is classically Italian. Not short of power either with 60Ah batteries it has an impressive 11-hour run time. 
The Ambrogio L400i is the perfect robot for very large open grassy spaces such as football fields, estates, schools, golf courses, and airfields. Especially when you need the job done quickly.
Working autonomously it's possible to cover up to 20,000 square meters of grass, utilizing the large 84cm cutting diameter and three electronically adjustable cutting decks. It's also incredibly simple to operate with a touch screen display.
Each cutting deck uses high quality solid steel blades that have a very long lifespan, making the L400i the perfect robot for consistent excellence. They're also height adjustable between 25 and 70 mm, perfect for a wide range of applications.
GSM Connect that comes as standard means you can expect full connectivity with the Ambrogio App. You'll find software updates, be able to control the robot remotely, see it navigate in real time and have control of its scheduling. Even pair it up with other robots from the Ambrogio range with +infinitysystem. The L400i sits at the pinnacle of design, function and performance.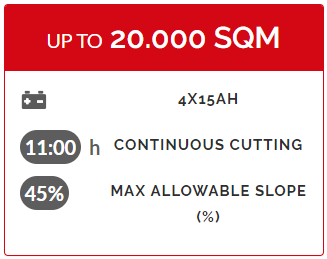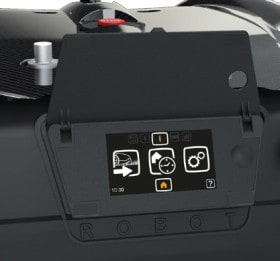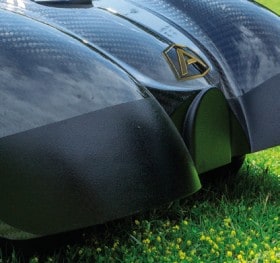 Bumper Of Carbon Fibre Shell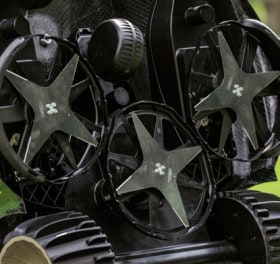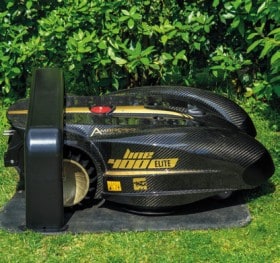 Lawnmower in Charging Station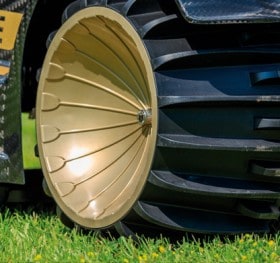 Patented rear wheels for excellent grip on all types of terrain, even on wet surfaces.

 LATEST GENERATION MOTHERBOARD

 ZCS CONNECT

 HIGH EFFICIENCY BRUSHLESS MOTORS

 MANAGE UP TO 8 SEPARATE AREAS

 TOUCH DISPLAY

 POWERFUL LITHIUM-ION BATTERIES

 LIGHTWEIGHT AND ROBUST CARBON CASING

 FLOATING CUTTER ARMS

 BLUETOOTH & GSM

 SLOPES UP TO 45%


 "SMART PARTITION" GPS CUTTING SYSTEM
CONTROL DEVICES
| | |
| --- | --- |
| User Interface | Touchscreen Display |
| App Control | Bluetooth-GSM |
| Bluetooth receiver | Yes |
| SMS Alert | - |
TRL
SAFETY
| | |
| --- | --- |
| Lifting/Tip-over sensor | Yes |
| Push/Stop emergency Button | Yes |
| PIN Code | PIN & Geofence |